Neolife, en El Español.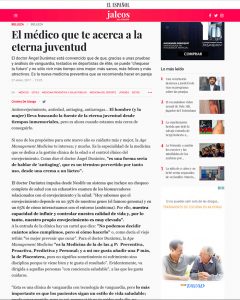 En Neolife están convencidos de que, gracias a unas pruebas y análisis de vanguardia, testados en deportistas de élite, se puede "chequear tu futuro" y no sólo vivir más tiempo sino mejor: más sanos, más felices y más atractivos. Es la nueva medicina preventiva que se recomienda hacer en pareja
Antienvejecimiento, antiedad, antiaging, antiarrugas… El hombre (y la mujer) lleva buscando la fuente de la eterna juventud desde tiempos inmemoriales, pero es ahora cuando estamos más cerca de conseguirlo. Si uno de los propósitos para este nuevo año es cuidarte más y mejor, la Age Management Medicine te interesa; y mucho. Es la especialidad de la medicina que se dedica a la gestión clínica de la edad o el control clínico del envejecimiento. Como dice el equipo médico de Neolife, "es una forma seria de hablar de 'antiaging', que es un término pervertido por tanto uso, desde una crema a un lácteo".
[…] El equipo médico de Neolife impulsa un sistema que incluye un chequeo completo de salud con un exhaustivo examen de los biomarcadores relacionados con el envejecimiento y la salud. […] A la entrada de la clínica hay un cartel que dice: "No podemos decidir cuántos años cumplimos, pero sí cómo hacerlo" o, como decía el viejo refrán "es mejor prevenir que curar".
[…] El equipo médico se ha formado con el doctor Neal Rouzier, médico de California que lleva más de 50 años investigando la literatura científica existente acerca del reemplazo hormonal y los síntomas de la edad, y autor del libro How to Achieve Healthy Aging: Why Everyone Should Replace Hormones. A Review of the Medical Literature ("Cómo lograr un envejecimiento saludable: Por qué todo el mundo debería reemplazar hormonas. Una revisión de la literatura médica").