---
The exposome is defined as the set of non-genetic factors to which we are exposed throughout our lives and which condition our state of health and disease.
The WHO estimates that approximately 25% of diseases are related to these non-genetic factors, which could be avoided. Therefore, it provides extremely valuable information in the design of preventive, diagnostic, and therapeutic strategies in the medicine of the future.
Dr. Débora Nuevo – Neolife Medical Team
---
What is the EXPOSOME?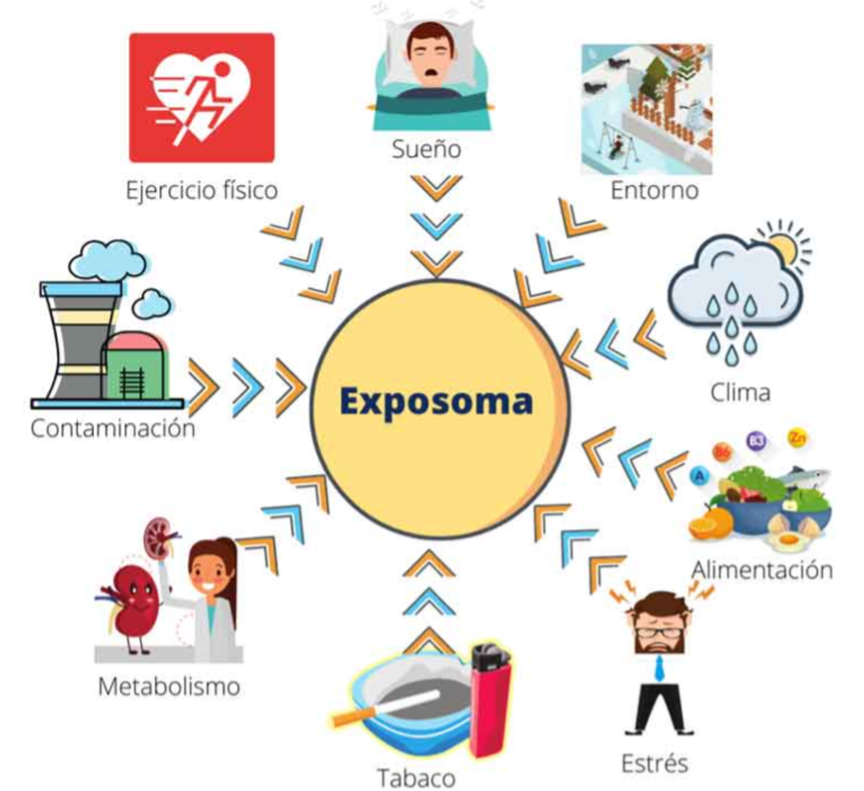 The set of traits presented by each individual is what we call phenotype, which is the product of each person's gene combination (called a genotype) within a given environment.
What we understand as an exposome, a term coined by C. Wild in 2005, is the set of environmental (non-genetic) factors to which each individual is exposed from the moment of conception and which may condition the state of health or disease.
This name encompasses multiple factors, which also vary over time, and which we may group into 3 categories or domains:
The General External domain includes social, economic, and psychological factors, such as education, climate, psychological stress, and the social or financial situation.
The Specific External domain includes the influence of infectious agents, chemical and environmental contaminants, radiation, alcohol and tobacco use, profession or occupation and medical treatments.
The Internal domain refers to metabolism, circulating hormones, microbiota, inflammation, lipid peroxidation, oxidative stress, and aging.
Variability and susceptibility windows of the exposome
In order for non-genetic factors to impact our health, they need to be able to alter biology at different levels (altering the microbiota, interacting in metabolic processes, decompensated the usual cellular pathways…).
That's why the exposome is especially difficult to cover. Not only because of the variability of its nature but also because it is modified over time, that is, it is dynamic.
Its effect depends on the dose or the level of exposure, as well as the moment in which it occurs, so we are talking about intrapersonal variability.
And this effect does not turn out to be the same in all individuals, with population groups that are more susceptible than others, also leading to interpersonal variability.

institutoroche.es
(4) https://www.vidasostenible.org/que-es-el-exposoma/