---
The end of summer vacation is usually accompanied by an extra pound or two thanks to having more free time, being less active and having more leisure time with friends and family. That's why September is a great month to get back to our healthy habits after the vacation period.
It's possible that our habits and lifestyle have loosened up a little more than they should this summer vacation. However, it's the perfect time to get back to all those routines that allowed us to make it to vacation with a healthy weight and healthy habits. A new Harvard University study confirms that acquiring healthy lifestyle habits helps guarantee longevity, so take advantage of September to start taking care of yourself.
Tania Mesa – Director of Neolife Nutrition and Nursing Unit
Alejandro Monzó – Neolife Nutrition and Nursing Unit
---
The month following the end of summer vacation serves as an important starting point for setting new goals.
The World Health Organization (WHO) defines noncommunicable diseases as those related to the proliferation of unhealthy lifestyles: obesity, diabetes, cardiovascular diseases and cancer. As the world works to monitor, study, and control infectious diseases, infant mortality, and other diseases, global concern about the spread of health problems associated with sedentary lifestyle, alcohol consumption, smoking, and junk food (1) is on the rise. In short, these are bad life habits that can be avoided.
Recently, The Lancet journal published an article on the prognosis of life expectancy, years of life lost and mortality from all causes (global mortality) and mortality from specific causes, specifically 250 causes of death as predictors for 2016-2040 in 195 countries (2). The authors found that unhealthy lifestyle causes 16 million deaths a year and that there is an increase of noncommunicable diseases in the global population (1.2).
Summer vacation represents a change in our daily routines, and one of the main things affected by these changes is our diet. The warm weather and free time of summer mean we neglect our habits, leading us to consume more sugary drinks, ice cream, fried foods, sweets, as well as ultra-processed foods and products in general. This means that we have days characterized by food excesses and little physical activity.
The problem we encounter is that many people choose miracle diets to cope with these excesses, a bad practice that doesn't seem to stop. In order to get rid of those extra pounds gained during the summer, a number of miracle diets are practiced aimed at reducing a significant amount of weight over a short period of time (3). The Spanish Association of Dietitians and Nutritionists (AEDN) warns that these types of diets are ineffective and can result in the opposite of the desired effect: the well-known yo-yo or rebound effect.
The rebound effect or yo-yo effect is the result of virtually all extreme weight loss plans or those characterized by severe caloric restriction that lack balance. The person loses weight at the start but regains the lost weight and then some (3) once they are off the diet. So in most of these diets the weight that is lost comes from water and muscle. These diets are deficient in nutrients, encourage restriction, rejection, guilt, aren't individualized and don't teach us to eat, balance and change our habits and lifestyle.
A recent study presented in the Obesity Reviews journal found that, for long-term weight loss, interventions that combine balanced eating and physical exercise, i.e. changing lifestyle habits, are better than interventions that focus solely on diet (4). Moreover, a new Harvard University study was published aimed at estimating the impact of lifestyle factors on premature mortality and life expectancy in the U.S. population (5). Based on 34 years of monitoring, the authors found that adopting a healthy lifestyle reduces premature mortality and increases longevity and life expectancy among the population.
For these reasons, the dietary excesses and reduced physical activity associated with the summer months should now make us consider resuming a healthy lifestyle in September. We encourage you to take a few minutes with a pen and paper and jot down some new healthy goals. For this list we'll take note of the things we really need to do, such as drawing up a healthy shopping list. The goal of this list is to limit the intake of superfluous, pre-cooked and highly processed foods, with an emphasis on fresh, higher quality foods. Making the right dietary choices (Figure 1) will ensure our diet is of higher nutritional quality and is varied and healthy.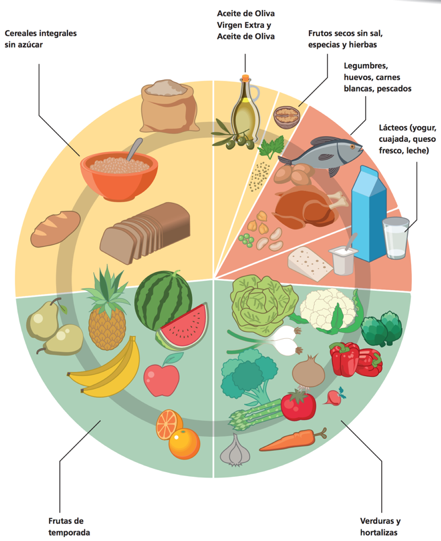 Once our shopping cart is packed with healthy foods, we'll organize our diet well so it is varied and balanced, spreading our food throughout the day and reducing intake late in the afternoon and evening. When it comes to cooking, we'll opt for simple preparation methods, avoiding frying and other unhealthy cooking methods. And to avoid monotony it's important to innovate and try out new recipes and culinary techniques and cook healthy meals. A long-term guarantee of a healthy diet.
Finally, remember to resume and increase your physical activity. Any activity is more than welcome. Our body requires movement. A dose of health that will not only improve our well-being, but will prevent anxiety, stress and loss of morale as a result of getting back to our routine.
We at Neolife want to convey that scientific evidence suggests there are no magic formulas for achieving success. It is essential that you implement eating and lifestyle habits that lead to the loss of weight gained during these vacations. And the most important thing is maintaining them for good over time. So even though the vacations are over, remember to always keep a positive attitude and look at September as a new opportunity to begin a healthy stage once again
Here is a summary of some recommendations for resuming our daily routines in a way that's consistently healthy and helps us acquire habits that, in short, will improve our quality of life:
Control portion sizes You'll consume less calories and improve your weight.
Focus on variety, nutritional density and quantity. Choose foods with a high amount of nutrients from all food groups and in the recommended amounts.
Limit fast food, which in excess leads to obesity.
Read the labels on food packaging. Avoid those with high amounts of calories from sugars, sodium, saturated fats and trans fats.
Eat slowly in an appropriate place and, whenever possible, as a family. Avoid eating in front of your TV or computer.
Cook in a healthy manner. Use cooking oil in moderation. Limit fried and breaded foods and season your meals with herbs, spices, mustard and citrus. Use salt sparingly.
It is always recommended to avoid alcohol.
Monitor your weight. Having a healthy weight is guaranteed to lower the risk of chronic diseases.
Stay active. Walk at least 10,000 steps a day and engage in moderate or high intensity, short-duration exercise 3 days a week.
Get enough sleep and control stress levels.
Enjoy meals and family events, but keep in mind that everything you eat and drink matters. Making good choices in all of the above regards will help you be more healthy.
---
BIBLIOGRAPHY
(1) (2015). "Noncommunicable diseases prematurely take 16 million lives annually, WHO urges more Action". World Health Organization. URL: https://www.who.int/mediacentre/news/releases/2015/noncommunicable-diseases/en/
(2) Foreman, K.J. et al. (2018). "Forecasting life expectancy, years of life lost, and all-cause and cause-specific mortality for 250 causes of death: reference and alternative scenarios for 2016-40 for 195 countries and territories". The Lancet. 392: 2052-90. URL: https://www.thelancet.com/action/showPdf?pii=S0140-6736%2818%2931694-5
(3) Casado Dones, M.J. et al. (2016). "Dietas milagro bajas en hidratos de carbono o carbofóbicas: perspectiva enfermera desde la evidencia". Enferm Clin. Vol. 26(4): 211-264. Elsevier. URL: https://www.elsevier.es/es-revista-enfermeria-clinica-35-articulo-dietas-milagro-bajas-hidratos-carbono-S1130862116300316
(4) Wu T. et al. (2009). "Long-term effectiveness of diet-plus-exercise interventions vs. diet-only interventions for weight loss: a meta-analysis". Obes Rev. Vol. 10(3): 313-23. URL: https://onlinelibrary.wiley.com/doi/full/10.1111/j.1467-789X.2008.00547.x
(5) Li Y. et al. (2018). "Impact of healthy lifestyle factors on life expectancies in the US population". Circulation. Harvard School. Vol. 138(4): 345-355. URL: https://www.ncbi.nlm.nih.gov/pubmed/29712712
(6) Fundación Española del Corazón. (2018). "Plato saludable". URL: https://fundaciondelcorazon.com/nutricion/plato-cardiosaludable.html
---